Uniform, House System and Facilities
---
Uniform
The original uniform was a V-necked, waisted and A-line pinafore dress with light blue blouse, beige stockings and brown shoes.
The hockey team in the picture below are wearing the early winter uniform. Uniform was strict including hats, although you could wear a beret if you cycled. Blazers and panama hats were worn in the summer.
The blouse and skirt replaced this in the 1960s. There was a summer dress. The blazers continued to be worn in the 1970s and 1980s.
The House System
The Houses in the early days were called Windsor, York, Gloucester and Kent after the King George V's sons.
Facilities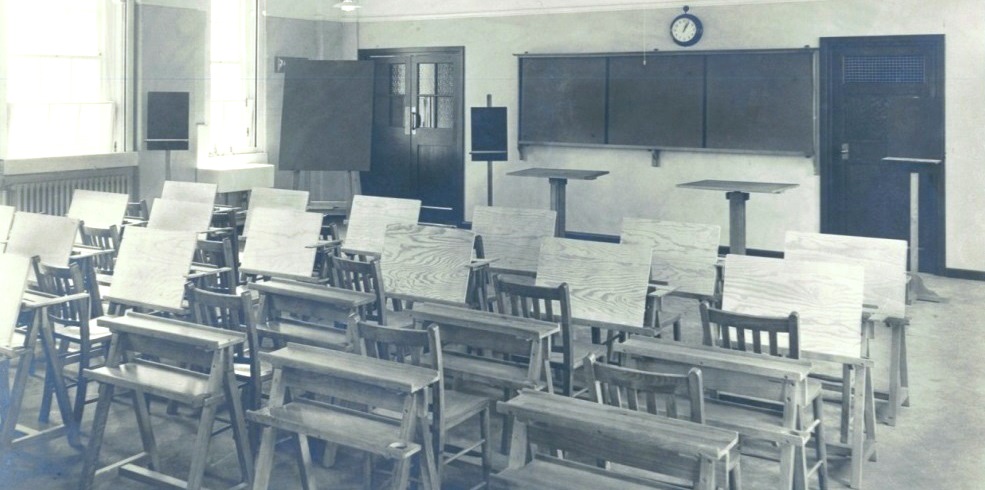 Every girl had her own desk in which to store her books and equipment. These lasted until late in the 20th century when they were replaced by tables and lockers.

Since the school was built in 1938 there have been many additions. The Drama block was originally the new Science block, and it was finished in 1976. The Sixth Form library is now Science. The Maths and History wings were added at the end of the
20th century. The Tech wing is also relatively recent. The Music suite and sports facilities were added in 2002.
The main stairs leading up from reception were only for staff and prefects to use. These stairs remained restricted to staff and the Sixth Form until relatively recently.